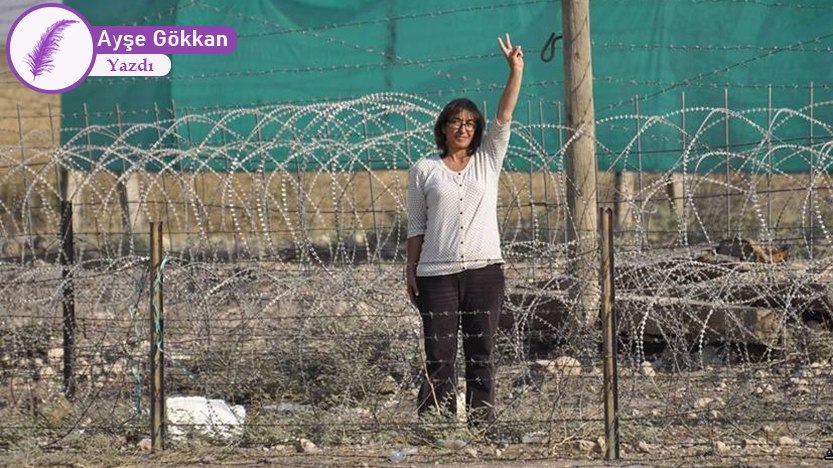 Nisêbîn di serhildêriya çiyayên Bagokê, hênikahiya Ava Spî de ku tu car bi "ser xetê, bin xetê" perçebûnê danexwariye li Kurdistana ku ji hêla hêzên hegemonîk ve hatiye çar parçekirin e. Jiyana ku xeyala welateke bê tepînk, ji teqandina tepînkan a di bedena xwe de napelike û vê derê vedugeherîne qada pîknîkê ye. Bajarê ku parvekirina îktîsadî ya bi cîranî re ango bi pênaseya dewletê qaçaxkariyê wek sûc qebûl nake ye. Digel hemû qedexeyên dewletê belgeya hiqûqê ye ku parvekirinên mirovî, wijdanî, exlaqî nabin ku wek sûc werin hesibandin. Welatê gulşîlav û gulên spî ye.
Nisêbîn bi dîroka xwe ya ku li ser Rêya Hevrişîmê ku hezkiriyên navneteweyî bi hev ve girê dide tê zanîn şahiya dîtbarî ya Akadan, sumeran, Babîl, Mîtanî, Med-Pers û serhildêrên ciwan Berîvan û Zozanan bi êşên ku dijîn re heta 6500 sal berê dirêj dibe. Qada arkeolojîkî ya Girnawasê ku li dîroka xwe nivisandiye temeniyên herî hestî bê ku di bin dara daxwazan de şevek neyê raketin nayên qebûlkirin, ji bo ev dîrok ronî nede cîhanê di sala 1992'yan de bi kuştina du arkeologên ku xebata kolandinê dikirin re ev hatiye sekinandin. Bajarê ku dizane ev tevkujî û îro jî tevkujiya kiryardiyaran, ji bo derneketina holê ya polîtîkayên nîjadkujiya heyî û hayjêbûna pêşketina civakîbûniya di pêşengiya jinê de asten bike nehatiye derxistin e.
Nisêbîn bi erka xwe ya dîrokî paceya Mezopotamyayê ya ku li bakur ve dibe, berxewadana ku ronî dide dîroka Rojhilata Navîn e. Li Kurdistana ku her cure zagon di hikma tune de ye beriya ku dewlet mafê bijartin û hilbijartinê ji bo jinan nas bike jin wek Fesle Anter li derdora jinê ya civaka xwezayî bi saziya keyatiyê birêxistin bûne dimeşînin. Û dema gund hatin şewitandin û valakirin jî dîsa li cîhanê wek a pêşîn bi jinên berxwedêr ên ji ax û ava xwe re li hember zayendîparêziyê têkoşyaye, jinên gundî ji jinên ku li bajaran hatine asêkirin re berxwedêrî kirine pêşeng, li Kurdistan û Tirkiyeyê 8'ê Adarê bi zelaliya Ava Spî jiyanê kirine wek robaran. Ji çiyayên ber bi bajaran ve hemerkiyeke berxwedêr a jinê ya sosyolojîkî hil digre
Nisêbîna Rengîn; Rengîna Serhildanê
Nasnameya Nisêbîn serhildan pêşenga tevgera azadî ya jinê ye. Di 1992'yan de di pîrozbahiyên Newrozê de Dayîka Alte (70) di bin panzêran de û bi dehan ji wan hatin qetilkirin (hejmara ku tê zanîn 17 e). Cihê jinê ye ku 470 kuştinên kiryar diyar ên jin, zarok, extiyar, mêr, ciwan pêk hatine, hatine kêrkirin, jilêtkirin û gef li wan hatiye xwarin. Bi dehan salan e jinên reşpêçayî bê ku dev ji lêgerîna dost, rêheval, hezkirî û zarokên xwe yên wendayî ku tim di şopa wan de ne ber bidin (dayîkên şemiyê) bi dayîkên şemiyê re tên ba hev. Warê berxwedaniya Seyîdan e Nisêbîn, mizgeftan ji hêzên tarî paqij dike. Baweriyê îstismar nake, jiyanê ne bi fobiya Îslamî bi rêdera demokratîk a Îslamiyetê ve girê dide. Ji nasnameya Kurdbûnê rengîniya Misliman, Elewî, Êzdîbûniyê dizane. Ji baweriyên ku pê re dijî rê di her meha rojiyê de restoranta ku xwarinê bixwe bi dorê vekirî dihêle. Destûr nade ku Ateîst, Xiristiyan, Êzdî, Elewî bêxwarin, bêîkram bimînin, li ber baweriya azad bi rêzdarî xwar dibe. Şafiîtiyê, bi destê xwe dahina jinê neşikandina destmêjê bi hesta dil ve girê dide û rê nade mezhebperestiya baviksalarî.
Nisêbîn, akademiya demokratîkkirina rêveberiya ku nayê rêvebirin e, rê nade bişavtinê. Heta roja îro navê kevirek jî neguherandiye, naguherîne. Bexçeya ziman û baweriyan e, ji wê digre navê xwe Nisêbîna Rengîn. Dema dengan dide ji qeymeqam û karmendan re dibêje 'min te nehilbijartiye lê bi hilbijartinê çiqas mafê min heye ez dê tev ji te bistînim' û digre.
Ên ku nehatine hilbijartin ji bîr nake Nisêbîn, ji jiyana xwe veder nake, rûmetdariyek bi qasî were hilbijartin hîn dike. Dema hilbijartina newekhev protesto bike li ser sindoqan li ser serê tayînbûyên ji Enqereyê tevahiya rojê xir û xalî dimîne.
Wehdkirinê qebûl nake; ji tecrûbeyên xwe dizane ger bi hev re neyê avakirin dê desthilatiya hundirîn ji qeyzer bêhtir qeyzeriyê bicebîne. Rê nade ku şaredarî bibin taşeronên netewdewleta ku buye taşeron. Xwe û bajarê xwe ji rêvebera/ê xwe ya/ê ku ji bo rêveberiyê hilbijartiye re jî nahêle, felsefeya rêveberiya hevpar e Nisêbîn. Herka jiyanê ye ku bi danîna sindoqan a li 15 taxan li Tirkiyeyê cara pêşîn e ku ji hilbijartiyên xwe re (şaredar, endamên meclisa şaredariyê, endamên meclisa giştî ya bajêr) du sal û nîv pişt re rêgeza banga paş ve hatinê bi referandûma xwe pêk aniye. Heqîqetek wisa ye ku ji rêveberiya ku di sindoqa xwe de hilbijartiye re ji %93 dibêje erê, di hilbijartina ku dewlet pêk tîne de jî dîsa rêveberên xwe bi %93 hildibijêre.
Di rêveberiyên cihkî de jin çar rêgezên bingehîn ên jiyanê datînin. Naxwe û nade xwarin (li hember rant û mêtîngeriya kedê). Ji ber ceribînên xwe zanîna ku ne pêkan e bi tena serê xwe pêk bîne bê birêxistinbûniyê bêhnê nagre, kolektîf e. Xiyanetê li naverasta jiyanê dihêle ji bo bibe zende li dinê. Rêgeza bingehîn çavkaniya jiyanê ye, ji zilmê re serî natewîne. Ne ji zilma dewletê re ne jî ji ya mêrî re. Ranta îhale ya dewletê ku di şaredariyê de ewlehiya xwe ya zagonî pêk aniye, modela rêveberiya cihkî ye Nisêbîn ku budçeya seroktiyê bi kar nayne. Nisêbîn e ya ku mufetîşên dewletê ku bi mehan hemû xebatên şaredariyê saxek lêkolandine ji akademiya mirovî, wijdanî, exlaqî û hiqûqî derbas kiriye û dest vala, rû reş şandiye Enqereyê. Hatina wê ya carek din bi aştiyê ve girê dide deriyê xwe her tim ji diyalogê re vekirî dihêle.
Nisêbîn rêgeha derbaseya Meryem Xan, Apê Mûsa, Mor Efrem, Mihemed Şêxo, Cigerxwîn, Ciwan Heco û wêjeya ku ji zilmê re serî natewîne ye. Nisêbîna Rengîn haveyna nivîskar û helbestkaran e. Dengê Delîla û ya Mizginî ji bîr nake. Wehdkirinê qebûl nake, di bibîranîna tu nirxên xwe de sersariyê nake Nisêbîn. Welatê zarokên ku bê frenê baz didin û çavên wan hezar hêviyan belav dikin e. Zarokên Nisêbînê ku hêlek wan bi leşker, hêlek polîs, hêlek kûçik, hêlek wan jî bi zeviya tepînkan hatiye asêkirin jî, di nav nijdkirina gel de bi pirsa 'em zarok aştiyê dixwazin lê hûn polîs çi dixwazin?' dersê dide mirovahiyê. Lê li şûna polîsan zarok tên darizandin di dewleta bêhiqûq de.
Di 2009'an de ji bo zerarek neghîje qasidên aştiyê ya ku li rêya hevrişîmê sê roj û sê şevan nobedariyê girtiye, ya ku bi xwe trafîkê kontrol kiriye, ji bo qeza û belayek li aştiyê neyê, fesadî tevlî nebe, bêyomî tê neçe ya ku li ser piyan e Nisêbîn. Kona çareseriyê bi dirêjahiya saleke vediguherîne kampûsa zanîngehê ya nifşê sêyemîn. Ji bo aştî neyê şewitandin û tunekirin konê di pişta xwe de digerîne di her taxê de.
Cara pêşîn ji dezavantajiyan re ciyawazîtiya pozîtîf dabîn dike. Berdêla wê çi dibe bila bibe ji vê nareve. Bajarê jinê bi avahiyên mezin nakeve nav pîşaniyê. Piştî ku şaredariyê ji dewleta serdestiya mêr û feraseta karmendê mêr girt pê ve, tax, kolan û kuçeyek Nisêbînê bê av, bê kanalîzasyon û bê raxistinî namîne. Di xizmeta jiyanê de tîkaneyê dikşîne berwariyê bê ku red û înkarê bike. Bi malên tenûr û malên gel ên li her taxan kuçeyan vediguherîne karnavalê. Îdeaya bajarê bêavêtî û bêastengî ye.
Her tim li ser mirovahiyê îmzeyê diavêje pêşekiyên cîhanê. Rêveberiyên cihkî bi dînamîkan zindî dike. Li cîhanê kotaya jinê tê sepandin lê dema Nisêbîn kotaya jinê disepîne ferqa xwe datîne; pêşîniyeke bi ser dixîne ku mêr nabin endamên endamtiyê. Îmzeyê diavêje arenaya demokrasiya civaka xwezayî ya jinê. Hinek dîtir bi pêş ve diçe û bi sepana hevserokatiya şaredariyê îmzeyê diavêje pêşîniyeke din jî û ji xwezaya cîhanê re, ji jinan re, ji gelan re û ji baweriyan re diyarî dike. Bi kêzik û moriyan re bi hev jiyana azad jiyanê bi nirx dike. Pêşberê tirkî ya 'hev' ê nabîne lê ji bo were fêmkirin bi 'eş' ê îdare dike.
Bajarê Jinê Yê Pêşîniyan; Nisêbîn
A pêşîn e Nisêbîn di 5 salan de tek jinek nehatiye qetilkirin: Ewropaya ku bi gelheya xwe ya sed hezarî ji xwe re dibêje navenda demokrasiyê jî têde li cîhanê dewletên ku gelheya wan ji sed hezarî kêmtir e jî bi ser nexistine ango demokrasiya xwezayê dixîne jiyanê û bi wê bi ser dikeve Nisêbîn. Di dirêjahiya pênc salan de şahidiya qetilkirina tek jinek jî qebûl nake. Bi rêveberiyên cihkî ku tu ewlehiyek wan a çekdarî tune ye (şaredarî jî daxil) digel avaniyên paramîlîter mîlîtarîst ên rêxistinên çekdar ên wek JOH, POH, notirvan JÎTEM û cerdevanan ku her roj rê li ber qirkirina jinê ve dikirin bajarekî ye ku bê ku kêrikek jî bixebitîne di her qada jiyanê de xwe birêxistin kiriye û qirkirinên jinê dahiye sekinandin. Bajarê ku îmzeyê avêtiye bin "jiyanek bêqirkirin, bêkuştin" ku kuştinên jinê nayê jiyandin pêkan e. Di nav pênc salan de jinek li malê mirî tê dîtin digel ku di otopsiyê de nexweşî der tê jî jin di xwe de nabuhirînin, bi çalakî û protestoyên bi rojan ber bi sînor ve dimeşin, hêlên direhî bi zerzengên reş dinixumin, ji dabeşbûniyê re hezar nalet tên kirin, dengê, ger sînor nebana dê di nav me de bana, kujerên ku sînor danîne, saziyên dewletan bi erdê re yek kir dibêje. Li hember tacîz û tecawizê bajarê jinê ya berxwedana bêeman e.
Bajarê jinê ye Nisêbîn ku di pênc salan de bi protestoyên xwe yên hember desthilatiya nîjadperest, zayendparêz û îstismarkara olê tucar kolan neterikandin û destûr neda kuştina sivîlek bi tenê jî. Di zikanê dayîkê diavêje dilê wê, wek perwerdekarek ji %94 zimanê xwe yê dayîkê bi kar tîne. Di nav pênc salan de bi Kurdî-Der'ê 3500 mamoste gihandin. Kurdî wernagerîne Tirkî. Hemû pêkenokên wê ji wergera Tirkî ya bi Kurdî diherikin "li min çavsoriyan neke" (gözünü bana kırmızı etme -beni tehdit etme-).
Bajarê ku li hember dîwarê şermê li Kurdistanê berxwedanê mezin kiriye. Şoreşa zihnî ye Nisêbîn ku li cîhanê kevir be jî ger di nav giyaneweran de were danîn wek şermekî dibîne.
Dostên xwe yên rêveberiya cihkî zêde dike, ji Soderham'ê (Swêd) heta Wartînîsê(Mûş) û ji Qamişloya ku li ber serê wê ye dest pê dike. Êşa qirkirina Wartînîsê vediguherîne abîdeyê eynî wek abîdeya qirkirina Newroza 92'yan. Helebçeyê, Qamişloyê, Roboskiyê, Dêrsimê, Koçgiriyê, Newala Qesabayê û dîroka bi êş ku bi jimartinê naqede.
Nisêbîn bajarê ku bi protestoyan sînorên ku dewletê bi dehan salan nedihiştin çûk bifirin hêla Rojava (Dirbesbiye) ve kirin, bê navber alîkarî berhev kirin, barkirin û bi milyonan ton ji sînor derbas kirine ye, hêvîya azadî ya bêdewletan e Nisêbîn. Nisêbîn Bajarê ku di erdheja Wanê de beriya dewlet, hükûmet û burokrasiya (qeymeqam, walî) ku di erdehja Wanê de hiqûqa dijmintiyê sepandin, betaniyên xwe di nav12 saetan de gihandin e (navbera Nisêbîn-Wanê 464 km ye). Di herêma erdhejê de kona xwarin a bê îhale bi mehan vekirî hiştiye, bajarê ku bi alîkariya nan û xureka bi dorvegerî Wanê bi tenê nehiştiye ye Nisêbîn. Pêşenga jiyana komunal e ku mifteyê 115 malan radestî şaredariya xwe kiriye û 2000 kesên ku ji ber erdhejê hatine li malên xwe parastiye û hewandiye.
Qada jiyanê ye Nisêbîn ku bi Sempozyûma Di Dîroka Mezopotamyayê de Nisêbîn, bi 47 welatan re tecrûbeyên xwe yên dibistana Nisebîsê ku yekemîn zanîngeha cîhanê ye parvekirin.
Şahida êşên Rêya Hevrişîmê ye, ji bo tenê kesek jî li dûrê axa ku li ser ji dayîk bûye neyê binaxkirin ji bakurê Kurdistanê, ji rojavayê wê heta başûrê wê Kurd, Suryanî, Mihelmî, Êzdî û Erebên ku lêgerên azadiyê ne bi pişta xwe hildigre… Bi tilîliyan pêşwazî dike û bi rê dike…
Bajarê ku bi keda jinan a bêsînor otel û restoranan red kiriye û bi sedan jinên ji çar hêlên Kurdistan û Tirkiyeyê, bi xeyala bajarê jinê gihandiye hev e Nisêbîn. Nisêbîn. Nisêbîn xwegihaştina her dikî dide hînkirin. Di konser û sanoyên Kurdî yên bi nêrîna jinê de dehanhezaran ra dike dîlanê bi wêne, peyker û sînemayê pêşenga turnûvayê ye.
Nisêbîn bajarê jinê yê pêşîn e ku li cîhanê wek polîtîkayên Emerîka û Holandayê ku bajarên bi dostbûna avadaniya jinê bi navê moderniyê girtine dest jî derbas dike û qada gelemperî ya jinê li plana avadaniyê zêde kiriye. Bajarê ku destûr nade avahiyên berkor ku jinê di malê de digrin. Bajarê ku klîmaya xwe ya xwezahî bi kevirên xwe ji hêla derve radixîne, atolyeyên kevir ku ber bi jibîrçûnê ve diçe jî bi vê zindî dike bi dînamîkên wek meclis, muxtar, SCS(stk), zarok, ciwan, extiyar û astengdaran biryara hevbeş digre ye Nisêbîn. Cih nade TOKÎ'yê ku belgeya bêrêtiyê ye.
Civîna meclis a Şaredariyê li bajêr bi 4 zimanan anons dike (Suryankî, Erebî, Tirkî, Kurdî). Kesek be jî fêmkirin û mafê di biryarê de hevparîbûniyê tim dihesibîne Nisêbîn. Bajarê ku li bajêr seroktiya şaredariyê bi %83.4 hilbijartiye, ji 25 endamên meclisa şaredariyê 25'ên wan, ji 4 endamên meclisa giştî ya bajêr 4'ên wan, ji 3 şarçeyan 3'yên wan (Kertwenê, Stîlîlê, Girêmîra) di partiya xwe de bidest xistiye. Ji bo ji yên ku nehatine hilbijartin rê neheqî neyê kirin hemû xebatên xwe li parlan, qadan û li kolanan dike. Deriyê girtî yê şaredariyê tune, karmendên ku di nav qerewat û çakêtan de hatine tepisandin, ji bo qumçeya xwe biqefilîne sê qat xwe xwar dike ji biçûkxistiniyê xelas dike, dighîne azadiya wan. Pergala ku karmend koleyên dewleta zayendparêz in, karker koleyên karmendan in û koleya hemûyan jin e tune êdî. Şerha tundiya li jinê ya kedkar peymana sendîka ji bo mirovîbûnê qebûlkirin û bidestxistina xwebaweriyê dabîn kiriye ku xizmet nasnameya wê/î bi xwe ye herî zêde, ji bo xwe tobe be tiştek naxwaze ji bilî ku kedkar bighîje azadiyê. Mêran jî dighîne azadiya îfadeyê. Li her kuçeya bajêr bê randevû tê ba hev Nisêbîn. Pêşenga şikandina cinsê serdest a mêr e.
Cihê Ku Jiyan Bi Ekolojiyê Re Ji Nû Ve Dighîje Hev e Nisêbîn
Şahidê Nisêbîna xwediyê polîtîkayên demokratîk, ekolojîk û azadiya jinê Newala Cax Caxê wek qada jiyana civakî hat veguherandin û ji peyayan, astengdaran û ji zarokên ku bêfrenê baz didin re hat vekirin, bi qadên werzîş, duçerxe, bez û çalakiyên civakî, li qeraxa newala bi dirêjahiya sê hezar metre ya li navenda bajêr bê ku parastina kûsiyan îhmal bike, îtxalbike, xwezî pê bîne, bi bikaranîna kereseyên xwezahî daxistina germahiyê bi qasî 5-7 santîgrat pîleyan mucîzeyek ekolojîk e Nisêbîn. Vê, 139 projeyên ku ji hêla dewletê ve alîgir tên dîtin nikaribûn pêk bînin lê digel hemû astengiyan Nisêbîna ku dibêje "xwe jî bajarê xwe ez dê bi xwe bi rê ve bibim" pêk tîne. Bajarê jinê ye ku pêşînî bi Tirkiyeyê dahine hînkirin e.
Bajarê ku parka bawerî ya Zeynel Abîdîn, Mor Yaqûbê xistiye nav mîrasa cîhanê ye, dema nîjadperest êrîş dikin dibêje "Mor Yaqûb Ez im" hembêz dike û diparêze.
Mînaka jiyana bêfabrîka, bêmûçe, bêmêr û bêdewletiyê ye. Dema gundên bi hezaran gelhe hatin şewitandin û xerakirin ên ku bi zorê ji cihên xwe hatin rakirin, hilberîna xwezahî pêk anîn, bê ku rûmeta wê bar bide di hêwirîn, xwedîbûn û parastina xwe de hewcedarê mêr û dewletê be bajarê jinê ava dike Nisêbîn. Bi çandînî û ajalkariyê xurekên xwe yên nebatî û ajalî bi qasî pêdiviya xwe hildiberîne, çav û zikê wê têr e. Bi hilberîna nanê xwe yê ku sedî sed li malên xwe yên tenûrê çê dike, bi çandina bexçeya xwe wek bostan, bi du mih an jî du bizin bin jî bi qasê pêdiviya xwe ya xureka ajalî hilberandinê pêşenga jiyana komunal e Nisêbîn. Hûn di stendina mast an jî sewzeya kesk de zehmetiyê dikşînin lê ji cîran bi hevkariyê dîtina wan li ber serê wê ye. Birçî û xizanê Nisêbînê tune ne.
A ku baz dide şewatên çiyayê Bagokê ye, bi rêzbûna li kêleka hev bi danedestî bi tonan kereseyê dighîne goristana ku di bilindahiyeke nêzê hezar metreyî de ye Nisêbîn. Yek ji bajarên kêmpeyde ye ku di 5 salan de 17 avahiyên dîrokî bi tescîlê girtiye bin parastinê. Dewrkirina nifşan a nirxan e Nisêbîn.
Vejîna gelên Mezopotamyayê ye. Ji heftan heta heftê saliyan ciwan, jin û mêr ji beza 8'ê Adarê ber bi Newrozê ji wê diherike Nîsanê Nisêbîn. Şahiyên 'Rengên Nisêbînê di Nîsanê de diherikin'(Nisêbîn'in renkleri Nisan'da akar) piştî lêkolînên dirêj hat qebûlkirin. Meha Nîsanê ji bo Suryanan Paskalya, ji bo Êzdiyan Çarşema Sor, ji bo Mislimanan roja jidayîkbûna Peyamber, ji bo Kurdan çêbûna Rêberîtiyê nîşan dide. Meha ku ji nû ve bi bîra mirovahiyê dixîne ku divê çima mirov ji rasthatiniyan bawer neke. Li nîvkoda bakur piştî Zivistanê hatina biharê, li hêlîlar û hêlîpanan nefesbûn nirxên hevpar ên gelên ku bi hev re dijîn û hwd.
Bajarê ku têkoşîna hember qirkirina jinê der ketiye lûtkeya herî jor e Nisêbîn. Di mitîngên 8'ê Adarê de Rojhilata Navîn, Efrîqaya Bakur, Ewropa, Asya, Tirkiye û Kurdistanê dighîne hev Nisêbîn. 8'ê Adarê di bin siya mîlîtarîzmê de pîroz nake, bi berxwedanê barîkatên mîlîtarîzmê ji cih ra dike Nisêbîn. "Şahiya Bila Bafiroka Min Bi Têlan Ve Nealiqe" ji bo bîranîna Berfînê, Ceylanê, Ûgûrî û zarokên Kurdistanê tê lidarxistin, ev îsrara Nisêbînê ya bê ku qirêj bibe mahina zarokbûniyê ye.
Nisêbîn ji beza pêşîniyan a ji bo mirovahiyê têr nabe. Paceya ku ji mirovahiyê re hatiye vekirin e. Li cîhanê 87 welatên ku hatin lêkolandina vê modelê bi baweriya ku cîhanek din pêkan e hatin verêkirin. Cihê perwerde û hevdîtina bi pêşîniyan a lêkolînvan û belegewarvanan e Nisêbîn.
Bajarê ku meşa Jinê ya Cîhanê (WMW), di 8'ê Adara sala 2015'yan de bi dînamîka jina bêdewlet, bêmêr û bêpere meşa cîhanê pêk aniye Nisêbîn. Îro Sara Kaya ji ber ku wek hevseroka pêşîn a cîhanê ji vê re pêşengtiyê kiriye li zindanê ye. Ji ber ku Sêvê, Pakîze, Fatma û Aysel rêwiyên vê meşê bûn gule li wan hatin barandin û şewitandin.
Ji 1'ê Cotmeha 2015'yan heta dîroka 26'ê Tîrmeha 2016'yan li Nisêbînê 7 car qedexeya derketina kuçeyan tê îlankirin. Ji 14'yê Adara 2016 heta 26'ê Tîrmeha 2015'yan 134 rojan bi qedexeya derketina kuçeyan a bênavber êrîş didome. Nisêbîna ku di bin êrîşa ku bi çekên herî giran û tankan bajêr neterikand hêviyê dide gelên bê dewlet. Li cîhanê li Fransa/Parîsê komunan70 roj, li Îrlanda/Belfastê 21 roj di bin êrîşê de jiyan cihê xwe naterikîne. Kesên ku Parîsê ji cîhanê re wek berxwedana mînak nîşan didin û pirsa hûn çima li kuçeyên teng û xizan ên Parîsê li ber xwe didin nakin ji bo vê berxwedanê bêqîmet bikin di bin êrîşa kesên ku ji Nisêbînê vê pirsê dikin de Nisêbîn wek bajarek a pêşîn e ku bajarê ku di bin van pirsan de ava kiriye 300 rojan neterikandiye. Û 134 rojan bê navber li hember qedexeya derketina kuçeyan li ber xwe dide. Careke din ji %/70'yê kesên ku koça bêgavî tucar qebûl nekirine û bajêr qet neterikandine ji jinan, ji sedî heftêyan %30 ciwan, jin û zarok in. Nisêbîn li hember rûxînê berxwedanek avakirinê ye.
Ewên ku di domahiya qedexeyên derketina kuçeyan de kesên ku poza xwe derdixistin derve ji hewa û bejahiyê bi çekên NATO yên li xwe pêçandî li wan didan nikaribûn bifikirin, ku kesên li hember çekên teknîkî yên NATO'yê bajar neterikandin ji birçînan nemirin, paymal nekirin, talan nekirin, tu buyera revandinek, tacîz û tecawizek nehat jiyandin. Li cîhanê şer û lêkdaneke ku ev nehatine jiyandin tune ye, ev avakirina jiyaneke ku xeyal bi xwe nayê kirin e.
Li cîhanê bi vekirina çeperên binevşî (mor çeperler) di dema şer de mînaka "ger li jinê tundî were sepandin jin ne bêçare ye" pêk tîne. Hêrsa îşkenceya ku ji hêla polîsan ve li zarokên ku bi hezar berdêl û zehmetiyan ji qadên şer hatibûn derxistin hatibû kirin, cezayên bi dehan salan Bi paş ve naavêje Nisêbîn, hema li dû wê ji 8'ê Adarê diherike Newrozê. Ev jî hêna ji hêla dîrokê ve nehatiye nivisîn nikaribuye binivîse, bi fikara lê ger ez kêm bînim ziman destê wê neçûye nivîsê ya pîşîn e.
Li cîhanê 4 awayên rêveberiyê hene. Dewlet, kanton, federasyon, xweserî. Ji ber ku vê bajarê birûmet xweseriya ku awayeke rêveberiya xweser e ji dewletê re pêşniyaz kir îlegal hat îlankirin û Bi erdê re hat yekkirin, Nisêbîn dibe berpirsiyariyek ku xwe ji xweliya xwe ji nû ve afirand û dibe nîşeyek ji dîrokê. Di hilbijartinên 2019'yan de şaredariya xwe ji qeyûmî digre. Ji tu mafekî xwe yê mirovî, wijdanî, exlaqî, rewayî tê nabore kesên ku li vê hewes kirin bi lekeyek reş a li eniya wan di rûpelên dîrokê de binax dike. Û Nisêbîn dizane ku zihniyeta netewdewletê ku dijminê vê dewlemendiyê, xwezaya ku dibêje xwe jî bajarê xwe jî ez birêve dibim, jinan, gelan, baweriyan, ciwanan e heye. Wekî din tu dijminek wê tune ye. Kêmasî û şaşiya Nisêbînê tune? Wekî her candarek heye helbet, li girêdana te ya bi fikir û zikrê re dinêre ger tu ji wê derê nebî jî, fersendê nade xetaya ku ji piştê lê dide, parçeyek e ji rêwiyên azadiya Kurdistanê ku mesûmiya kêmaniyê dizane, ronî dide cîhanê.
Evîndarbûna evînê Nisêbînê, navê dildarbûna ji berxwedanê re ye. A ku ji berxwedana bajarê jinê Nisêbînê re hur dildar dike jiyan e. Dildarbûna dildariya Nisêbînê, bi xwebawerî serê xwe hêdîka danîna ser çonga berxwedana azadiyê ye. Hema li wê derê ji zilmê vala dibe rêwî ber bi azadiya bêdawî ve rê digre. Berxwedan têr nake hesabê dipirse Nisêbîna Rengîn. Baş e ku ez di akademiya Nisêbîna Rengîn de 5 salan bûm şagirt. Layiqbûnî tê nîqaşkirin lê ez dikarim daxwaza şanseke wek xwe ji bo her kesî bikim. Bi bîranîna kesên ku jiyana xwe ji dest dahine…
Ayşe Gökkan