Women's Struggle for Freedom Cannot Be Prosecuted!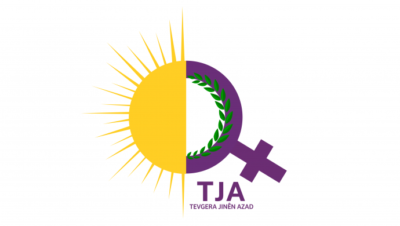 On November 29, 2022, 23 of our women friends were detained under torture as part of an unlawful investigation launched by the Ankara Chief Public Prosecutor's Office and many of our women friends were subsequently unlawfully arrested. The detention of our arrested colleagues has been going on for almost a year with purely political motives, hostile policies and arbitrary practices.
These practices of judicial violence, which have their ideological roots in Kurdish and misogynist hatred, target women's growing struggle for freedom; we are aware of this.
Every day, the male-dominated fascist power and the judiciary mechanism, as an instrument of this power, try to imprison and silence women through political operations. The TJA, which is nourished by the women's struggle for freedom and aims to expand this struggle, is systematically and repeatedly subjected to judicial violence to be illegalized. On the other hand, TJA activists and its former spokesperson are being punished with long prison sentences and Kurdish women are being criminalized.
But they will fail; just as they have failed… Because there is something we have learned from social history. Women's struggle for freedom, as the biggest fearful dream of the rulers, will defeat the ruling, sexist, fascist regimes again!
We reiterate against this judicial attack, which targets TJA in the person of Kurdish women and is a continuation of previous attacks; As the organized and free power of women, TJA derives its legitimacy from the truth and resistance of women. Those who judge this organized power and women's demands for freedom have no legal, moral or social legitimacy!
As TJA; we will continue to grow our resistance, to protect our struggle and our identity in a manner befitting the truth of women's freedom. Whether we are inside or outside, we will not stop following the slogan "Towards Freedom with Jin Jiyan Azadî" and raising the struggle.
On this occasion, we call on feminist women, especially Kurdish women, Turkish women and all democratic public opinion to follow the hearing to be held at Ankara 25th High Criminal Court on November 7,8,9 at 10.00 am, within the scope of the case in which 23 of our women friends are on trial, to raise the struggle and to increase women's solidarity.
Free Women's Movement-TJA